Cut. Link. Roll. PLARN!
Ardin is one of the talented production cooks here at Thyme & Again. In her spare time, she wanted to do something about the sheer number of plastic bags that end up in the garbage every day, because they can't be recycled. She thought of a special way to help – by making PLARN!
Ardin drew on inspiration from Pinterest and after learning about how to make plastic yarn online she got to work – taking home washed plastic bags that hold the pita breads used to make our house made pita chips.
So – how do you make plarn? By cutting plastic grocery bags into strips, which you then string together into a single long strand. You can use plarn instead of regular yarn when crocheting sturdy, reusable bags, purses, doormats and more!
While Ardin spins her plarn, she likes to sip her homemade ginger mint lemonade while watching Netflix – especially the original Office. It typically takes her around two hours to cut and roll one hundred bags into strips.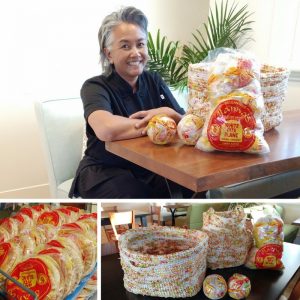 Ardin eventually wants use her new found knowledge of plarn to make mats for the less fortunate – perhaps even travelling to underdeveloped countries like Indonesia to teach these methods alongside her brother.
What is so unique about plarn is that the ideas of what you can crochet are endless. Ardin started out making tote bags – which took about twelve hours and 200 pita chip bags to make one small tote and eighteen hours and 300 pita bags to make one large tote. The timeframe includes the cutting, linking, rolling and crocheting of the plarn. Both of these stunning bags made by Ardin can be seen in the images above.
While finishing a plarn project in it's entirety can be a lengthy process, Ardin loves the careful repetition and could do it all day. While she is currently a one woman army we would love to see a plarn demo in Exposure Gallery sometime soon – stay tuned!
-Jennifer Crossman